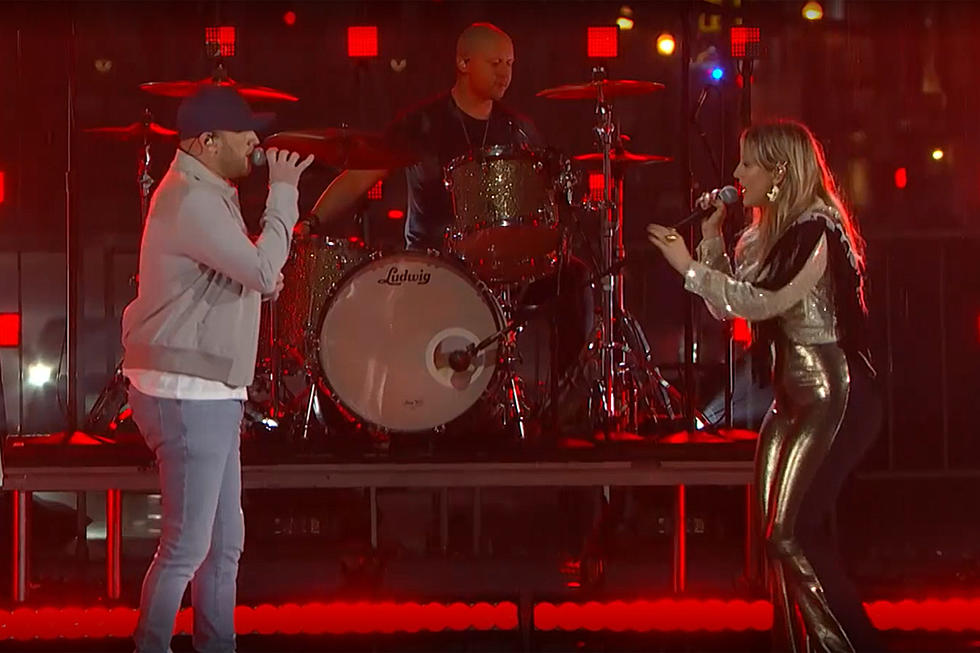 Cole Swindell and Lainey Wilson Bring 'Never Say Never' to Life on the 2022 CMT Music Awards Stage
CMT Music Awards
Cole Swindell and Lainey Wilson delivered a powerhouse performance of their duet, "Never Say Never," during the 2022 CMT Music Awards on Monday night (April 11). The pair offered a turbo-charged live version of their fast-rising hit, trading verses and pairing for soaring vocal harmony as they sang.
And while the skies poured rain during the entirety of their performance on the streets of downtown Nashville, these duet partners persevered, refusing to let the weather dampen the energy of their hit song. In fact, towards the end of the performance, Swindell could be seen looking up in the air, seemingly loving the fact that he was drenched.
https://youtu.be/pUJqjReVKIg
"Never Say Never" is the lead single off of Swindell's brand-new studio album, Stereotype. The song is currently Top 5 and rising at country radio. Both artists are on a hot streak: Wilson just notched her first No. 1 hit with "Things a Man Oughta Know," while Swindell is still riding high from his back-to-back No. 1 hit singles, "Love You Too Late" and "Single Saturday Night."
The music video for "Never Say Never" earned a nomination for Video of the Year, the biggest award of the night, at the 2022 CMT Music Awards. However, ahead of the ceremony, it was cut from the running as the nominees list was whittled down to just three contenders. Those are Jason Aldean and Carrie Underwood's "If I Didn't Love You," Kane Brown's "One Mississippi" and Cody Johnson's "'Til You Can't."
The 2022 CMT Music Awards aired live from Nashville on CBS. Kelsea Ballerini, Anthony Mackie and Kane Brown co-hosted the show; Brown was a last-minute addition to that hosting lineup after Ballerini received a positive COVID-19 test and had to re-work her hosting duties so that she could attend from home.
2022 CMT Music Awards Red Carpet - Best Dressed + More!
Photos from the 2022 CMT Music Awards red carpet find country music's biggest stars and hottest newcomers trading in formal attire for vibrant spring or summer fashions. Neon and purple were the most popular colors for country women on the CMT red carpet. See pictures of
Miranda Lambert,
Maren Morris
,
Thomas Rhett
,
Little Big Town
,
Kane Brown
and more, plus their spouses!
More From Big Cat - WBKT-FM