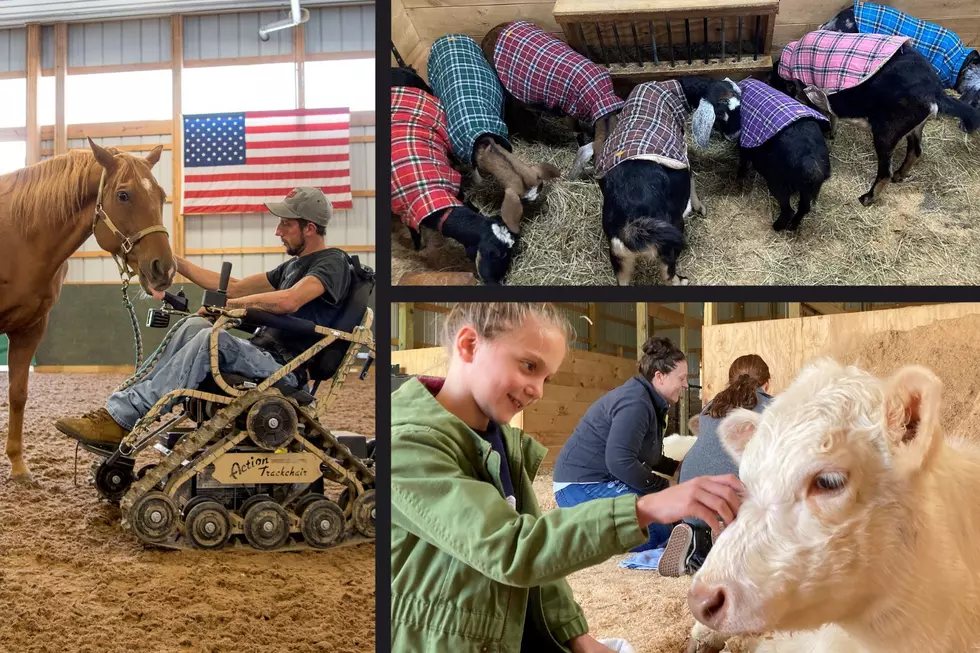 Special CNY Farm Helping Save Lives Where You Can Cuddle Cows & Goats in Coats
Credit - The Root Farm
There's a farm in Central New York that is helping save lives by connecting people and animals in a special way.
The Root Farm in Sauquoit, New York is over 100 acres of therapeutic healing with animal, recreational, and educational experiences. From cuddling with cows, goats, and sheep, to riding horses and conquering the ropes course, it's life-changing for anyone who's had the privilege of spending time on the farm.
Life Changing
Just ask the veteran who suffers from PTSD so bad he needs to take medication every 4 hours. He spent 12 hours on the farm and didn't take it once.
Or the little girl who hadn't spoken to her teachers or classmates for the entire year. But she spoke to one of the horses at the Root Farm.
New Way to Get Moving
How about the disabled man who felt free for the first time climbing out of his wheelchair and into the trees in the first fully accessible ropes couple in the world.
Then there's the paraplegic who was able to play golf from a special wheelchair called the Action Track Chair, which is FDA-approved and available to qualifying veterans at no cost.
Animal Rescues
It isn't just humans being rescued at The Root Farm. Animals are saved too, including Amelia, the chicken with a deformed beak that will greet you as soon as you walk in the door.
We also have rescued many animals with special needs that have helped initiate conversations about what it means to be different, and that we are all unique in some way.
Cow Cuddling
You don't have to be disabled to benefit from everything The Root Farm has to offer either. It's for anyone who needs help and everyone could use a little help from time to time.
Try cow cuddling. It's believed to promote positivity and reduce stress. And who couldn't use a little less stress in their life?
Let Daisy and Darla, the two cows rescued as babies, melt all your worries away. It worked for me and I can't wait to go back for another cuddle session.
Parties, Retreats & a Wedding
The Root Farm has hosted birthday parties, team-building corporate retreats, field trips, and even a wedding with one of the sheep as a ring bearer.
We've had guided snowshoe hikes the last few years for the "Snow Moon" in February.
Superbowl & Phoenix Open
You can win a trip of a lifetime with tickets to the Superbowl AND the Phoenix Open. Tickets are $100 and can be purchased at rootfarm.org until 5 PM on Monday, January 9.
Learn more about this life-changing farm on their Facebook page or at rootfarm.org, where you can make a donation to keep the mission of healing and saving lives alive.
Special CNY Farm Making a Difference Saving Lives
The Root Farm in Sauquoit is making a difference by saving lives, both animal and human for years. Help keep their mission alive.
Inside Farmstead 1868 & Lavender Fields
Take a tour of Farmstead 1868 in Fenner, New York where lavender fills the fields.
More From Big Cat - WBKT-FM