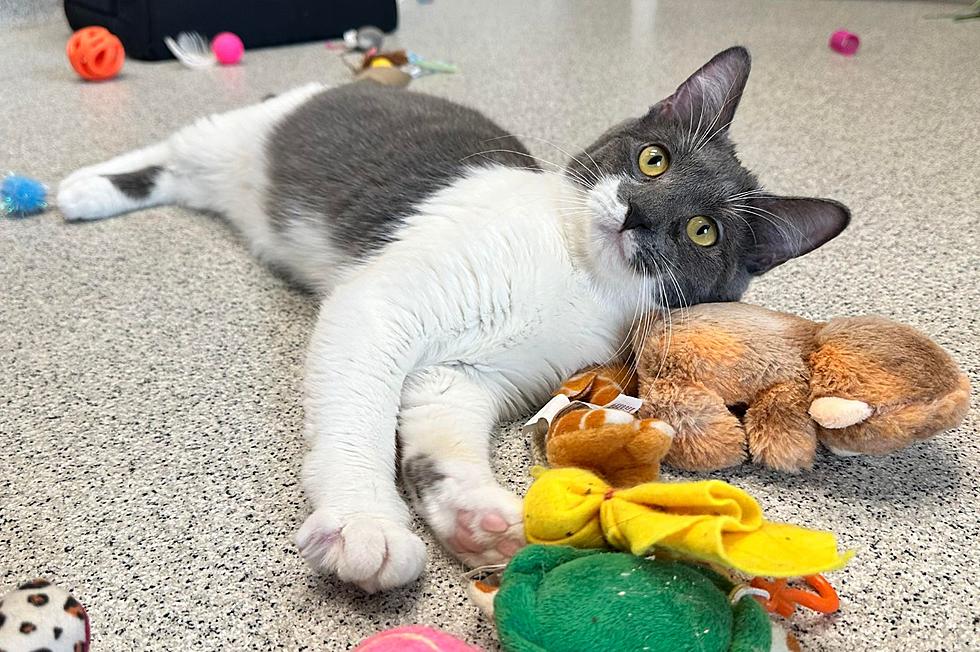 Susquehanna SPCA Pet Of The Week–'Glasgow'
Susquehanna SPCA
Meet the Susquehanna SPCA "Pet of the Week" – his name is "Glasgow".  Every Tuesday morning on Classic Hits 103.1fm, Allison Hungerford, licensed Vet Tech at the Susquehanna SPCA, will tell us all about a special dog or cat at the shelter looking for its forever home which has been overlooked by visitors for some reason. Many times, it's because many animals are shy while in the shelter because it can be a stressful situation! Once adopted, many cats and dogs warm right up to their owners.
This week we are going to feature Glasgow, a very adorable and adoptable 1 year old kitty! Glasgow is an outgoing, lovable boy who very much enjoys the company of everyone he meets! He is one of the first kitties to greet you in the SQSPCA community rooms and can often be found playing with lots of toys (as seen in the picture above). Glasgow has a head tilt, but it doesn't affect him other than making him even more adorable.
Folks interested in adopting Glasgow should give the SQSPCA a call at 607-547-8111. To browse all the SQSPCA's adoptable animals and to learn more about their adoption process, please visit: 
https://linktr.ee/sqspca
Don't forget to check out our other SQSPCA featured Pets Of The Week.  Click here to view.
Many thanks to the "Pet of the Week" sponsor: Five Star Subaru, dog-tested, dog-approved, located at 331 Chestnut St., Oneonta, NY.
More From Big Cat - WBKT-FM