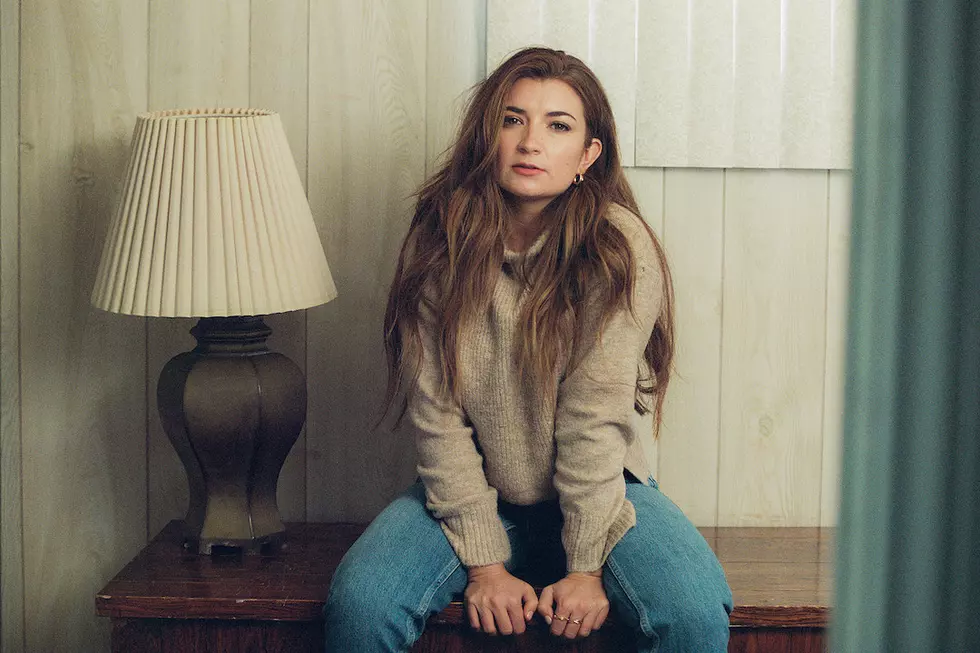 Interview: Tenille Townes Reveals Her True Self on Stellar New EP 'Masquerades'
Lauren Dunn
Since moving from the small town of Grand Prairie in western Alberta, Canada to the bright lights of Nashville eight years ago, breakout country star Tenille Townes' burgeoning country music career has already seen her opening for heavyweights like Miranda Lambert, Dierks Bentley, Brothers Osborne and Reba McEntire.
She's also won several awards including New Female Artist of the Year at the 2020 ACM Awards, Country Album of the Year at the 2021 Juno Awards, and Female Artist of the Year at the 2021 Canadian Country Music Awards — all of which she says wouldn't have been possible without the unwavering support of her family and those back home. They were the ones who allowed her to "dream about being anything she wanted to be."
"Everyone in my hometown has each other's backs and are very encouraging and supportive of people pursuing their dreams," Townes tells The Boot. "Their support gave me the confidence to believe that anything is possible. It's a gift that I'm so grateful for. I'll always carry that spirit with me."
Growing up, Townes says that she was first introduced to country music by her parents and grandparents during drives in the family car. Her mother loved Shania Twain, her father adored rock 'n' roll and her grandparents enjoyed the classics like Elvis Presley and Dolly Parton. Each of these musical flavors have since become a part of Townes' own sound, which flourished alongside her vulnerability on the newly released Masquerades EP, which she released in April.
"I really do feel like two different people with my music," says Townes. "There's this reflective and introverted songwriter side of me that I love leaning into and making everyone feel like they're in a living room together. I can also come alive on stage in a fiery way, stomping around and leaning into the electric a bit. On my new EP I feel like I'm really embracing both of these sides in the music, and I have those influences from car rides as a kid to credit for it."
After making a name for herself with songwriting that originated from an outsider perspective, found on 2020's critically acclaimed The Lemonade Stand and other projects, Townes has taken a different approach with Masquerades. This time, she's looking within herself for what's by far her most personal collection of songs to date. According to Townes, the pandemic and isolation of being stuck alone at home was a huge factor contributing to the inward reflection on the EP.
"I really do love to be a storyteller, and songwriting has always been my way of processing how I feel about something," says Townes. "In the past couple of years it's been even more instrumental in helping me process what's going on in the world while I was stuck by myself. It forced me to navigate to a more vulnerable place with my music, which led to songs coming out far more personal this time around."
The project's song most directly tied to pandemic isolation is "Shared Walls," a track she co-wrote from home over Zoom with Wrabel and Eric Leva. It's about getting to know her neighbors by listening to them through the shared walls of her apartment during the lockdown's early stages. She's joined on the track by another blossoming country star, Breland, who immediately signed on to collaborate.
"Breland's voice and perspective is so important for country music so I was honored that he agreed to join me on the song," says Townes. "He shows a more vulnerable, soft side of himself on the track that gives me goosebumps every time I hear it."
Although not necessarily pandemic related, Townes again opens up on "When's It Gonna Happen," a rockin' country banger about setting aside expectations for yourself and others. Townes wrote the track after she found herself staring at a stack of friends' wedding invitations at her home, wondering when she'd meet her Prince Charming. "Sometimes i feel like i'm the last one standin' / I look around and all my friends are fallin' in love," she sings. "I'm scared to death i'll end up empty handed / can't be the only one." Eventually, she has a realization that love can't be rushed and those special moments must happen naturally.
"I wanted to pair the song's raw and vulnerable lyrics with music that would feel uplifting and could hopefully be somebody's anthem of self worth to know that they're enough exactly as they are," says Townes.
Townes says the idea for the EP's title Masquerades came from a lyric in of its tracks, "Villain in Me," in which she sings, "You'll only see me laughing / sunshine and a smiling face / sometimes I wear it like a mask / it's easier that way." The lines touch on the difficulties associated with opening up emotionally, and how that eventually eases when you find common ground with another. It's those unexpected connections with others who have shared similar experiences that often help us all feel a little less alone.
"I believe that being a bright and sunny person is such an important thing, but there's also a lot of value in the authentic part of setting that aside sometimes," says Townes. "It can be scary at times, but it's a good scary. It's been very uplifting to see how people have responded to the songs and hearing their stories of going through similar experiences. The best part of music is that it reminds us that we are not alone in our feelings."
PHOTOS: Maren Morris, Tanya Tucker + More Heat Things Up at Stagecoach 2022
After a two-year hiatus due to the COVID-19 pandemic, Stagecoach Festival returned to Indio, Calif. for three days of sun, fun and country music. Headlined by Thomas Rhett, Carrie Underwood and Luke Combs, this year's eclectic lineup also featured performances from Brothers Osborne, Margo Price, Midland, Yola and more.
More From Big Cat - WBKT-FM