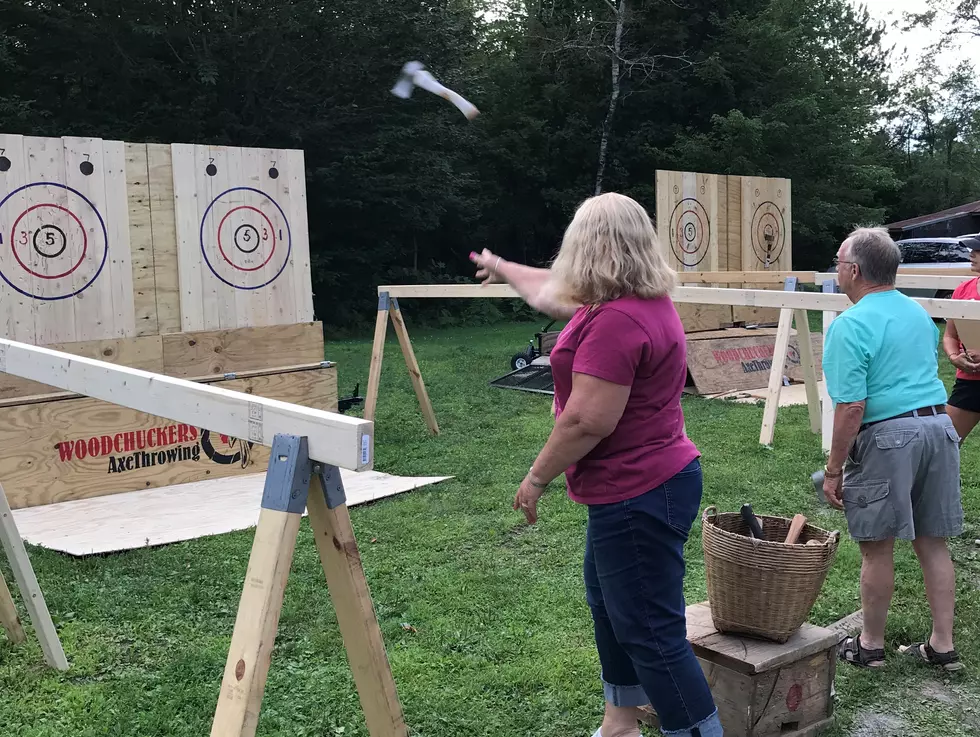 Chuck it Up! Ax Throwing Coming to FrogFest 33
Credit - Woodchuckers
Chuck it up! Ax throwing is coming to FrogFest 33.
Woodchuckers is bringing the Axe Challenge to the Herkimer County Fairgrounds on Saturday, June 18 so you can toss it up while listening to great live music at FrogFest all day.
Axe Challenge
Gates to the Herkimer County Fairgrounds open at 11:30 AM. The Axe Challenge begins at noon. $5 will get you ten throws. Get the highest score of the day and you'll enjoy 4 more hours of axe-throwing fun at 12 North Sports Bar.
FrogFest 33 - June 18
Gates to the Herkimer County Fairgrounds open at 11:30 AM. The live music kicks off at noon following the National Anthem. Headliner Dylan Scott will take the stage at 6 PM.
Tickets can be purchased at Price Chopper/Market 32 locations in Utica, Rome, and New Hartford, or online below.
WHAT: FrogFest 33, presented by Curtis Lumber
WHEN: June 18
WHERE: Herkimer County Fairgrounds
GATES: 11:30 AM
MUSIC: 12:00 PM
ENTERTAINMENT
Dylan Scott
Brooke Moriber
Alexandria Corn
Alyssa Trahan
Frankie Justin
Whiskey Creek
Joe Vandresar and Kickin' It
Broken Rule
National Anthem
TICKET PRICES
$23 General Admission
$65 - Curtis Lumber VIP tickets include a private cash bar, food, private bathrooms, FrogFest T-Shirt, and special seating.
Kids 10 and under FREE with General Admission (VIP tickets $65)
$30 at the gate June 18
Looking Back at More Than Three Decades of FrogFest Concerts
FrogFest started on a slab of concrete over three decades ago. It's grown into an all-day festival with top-notch Nashville talent. Take a look back at FrogFest concerts in Central New York.
More From Big Cat - WBKT-FM