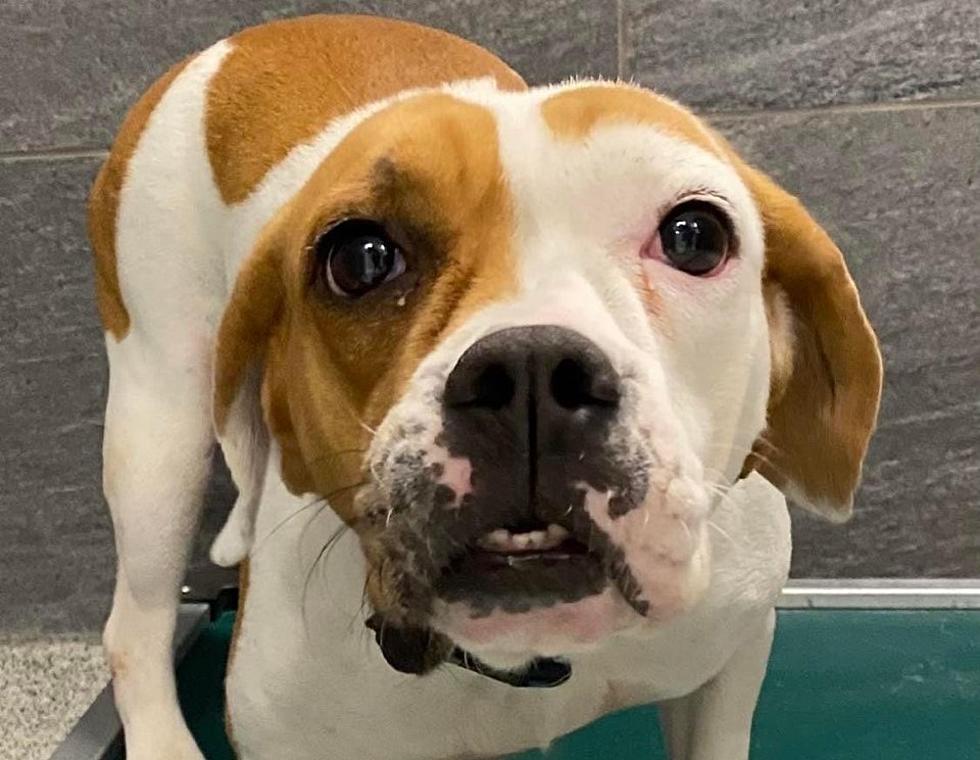 Pet Of The Week — 'Chloe'
"Chloe" (Susquehanna SPCA)
UPDATE: Chloe has been adopted!
Meet the Susquehanna SPCA "Pet of the Week" – her name is "Chloe".  Each week on Tuesday mornings at 8:30 am on Classic Hits 103.1fm, Leslie Ann will host members of the Susquehanna SPCA, who will tell us all about a special dog or cat at the shelter looking for its forever home.
This week we're going to feature Chloe. She is an adorable 6-year-old Bulldog/Beagle mix. She was rescued from a puppy mill where she was used for breeding. Because of her past and lack of socialization, Chloe can be quite timid when meeting new people and experiencing new things. She is a very sweet and lovable girl when she gets to know you though! Chloe would benefit from a very patient adopter who will help her build her confidence.
To meet Chloe or any of the other adoptable dogs and cats, give the SQSPCA a call at 607-547-8111 to schedule a time to visit for convenience, although walk-ins are welcome.
Don't forget that you can support the Susquehanna SPCA and other local animal shelters at the Pop-up Holiday Thrift Store in the Southside Mall, Oneonta.
Click here to see all of our featured Pets Of The Week
Many thanks to the "Pet of the Week" sponsor: Five Star Subaru, dog tested, dog-approved, located at 331 Chestnut St., Oneonta, NY.
2021 Destination Oneonta Holiday Parade Highlights
The 2021 Destination Oneonta Holiday Parade was enjoyed by many on Saturday, December 4th in Oneonta, NY. Here are photos of many of the participants in the parade this year.
2021 Oneonta Festival of Trees
The 2021 Festival of Trees, held at Foothills Performing Arts Center on December 3 and 4 in Oneonta, NY was fantastic with many participating groups and businesses that decorated sponsored trees. See all the creativity that was inspired year.
2021 Oneonta Gingerbread Jubilee Contest Entries
The Destination Oneonta 2021 Gingerbread Jubilee was back this year in a big way! The theme for this gingerbread creation contest was "Deck the Palms" for some tropical holiday fun. Here's a collection of the entries for the contest which includes individual children, families, professionals, and individual adults. The Gingerbread Jubilee was held at Foothills Performing Arts Center atrium.
More From Big Cat - WBKT-FM